Here is a collection of links that I find useful, including suppliers, general mosaic information and books that have included my work. Included also is a section on making your own colored mirror.
INFORMATION:
Lark Books ........... (how-to craft books, including "Making Mosaics" by Leslie Dierks and The New Mosaics by D.T. Dawson)
The Complete Mosaic Handbook by Sarah Kelly, Quintet Publishing
Cole Sonafrank...... (a long-standing source of links to artists and supplies)
Austin Reeves
..... (elegant motion tracking solutions and After Effects advice)
Making Your Own Mirrored Tesserae:
For those of you who write and ask, I will try to answer your questions in advance. I do not glue pieces of colored glass to sheets of mirror to achieve my effects. I use colored glass tesserae that have been silvered. creating small pieces of colored mirror. Colored mirror can be made from any piece of colored glass. All that is required is to find someone in your area who re-silvers antique mirrors. Once your glass has been silvered and sealed you may cut it into any shape you desire. Seal the edges of the tesserae with mirror edge sealant or a good grade of clear shellac to prevent tarnishing.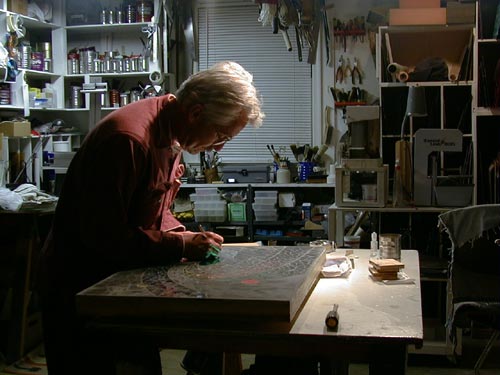 Detailing "Water Galaxy" in the fall of 1997